Bring the festive season inside this year with some perfect potted plants! Whether it's a Christmas tree or a Christmas cactus, this top 10 list has every plant you could ever need. So, what is Father Christmas bringing down the chimney this year?
What are Christmas Plants?
Christmas plants are essential if you're looking to make a Winter garden indoors! Whether you're looking for the perfect Christmas gift or some new indoor plants to spice up your festive decorations, we have something for everybody!
Across the UK, people want indoor plants at Christmas for many different reasons. Although the main plant Brits opt for is the bog-standard Christmas tree, unusual and low-maintenance plants are also extremely popular as gifts for friends, family members, and loved ones.
But this leaves a broader question… How do we define what a Christmas plant is?
How Do We Define "Christmas Plants"?
Christmas plants and flowers need to thrive in those colder climates. Otherwise, they would be no use as a gift! So, these indoor plants are going to need to love partial shade, milder temperatures, and (ideally) be perennial.
To look extra festive, Christmas plants and flowers may need to be infused with some Winter-themed colours. This might include things like red or white flowers, light-coloured variations, and/or dark green foliage.
Christmas plants don't have to be living either! Artificial plants are always a popular choice for beginner plant parents or the not-so-green-fingered! Besides, most Christmas trees are fake so there's no shame in a faux indoor plant…
10 Best Christmas Plants: the Definitive Rundown!
From traditional Christmas plants to some quirky additions, we have it all on this best Christmas plants and flowers list! So, what are the best Christmas plants?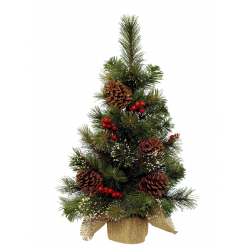 Is there any other way we could start the list? The Christmas tree is an absolute essential for any household that wants to celebrate Christmas. Whether living or artificial, the Christmas tree is an automatic showstopper and needs to draw the eye!
At Oxy-Plants, we have the perfect artificial Christmas tree on offer! Coming in at just under half a metre, the artificial Christmas tree (45cm) looks perfect on a desk, windowsill, or table. For the six to eight weeks you have this tree on show, it'll look just like the real thing!
Another benefit of an artificial Christmas tree is that it is reusable! Simply store it in the attic or basement for the 10 months you don't need it and it'll be good as new for December 1st 2024!
2. Poinsettia (Red & White)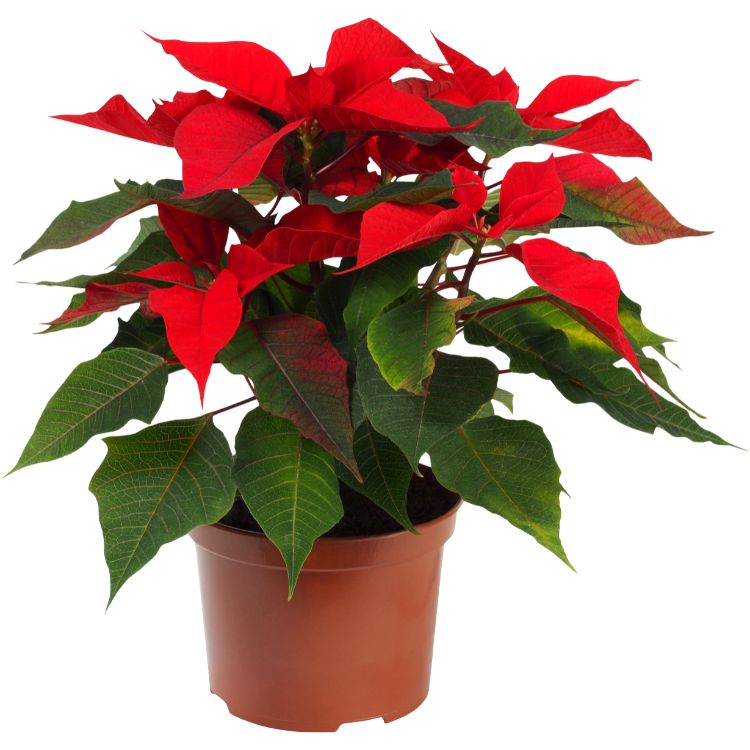 The Poinsettia is the quintessential Christmas plant! Over the Christmas season, poinsettias have been given out as gifts for hundreds of years. They're wonderful gifts that are Christmas coloured with red or white flowers and deep green leaves.
We sell poinsettias with white and red leaves. So, whatever your Christmas decor is, we've got something for you! If you would like a planter, we recommend something a little plainer, like a glossy ceramic pot (curved). This will accentuate that pop of colour in your poinsettia's leaves.
3. Christmas Cactus (Euphorbia Trigona)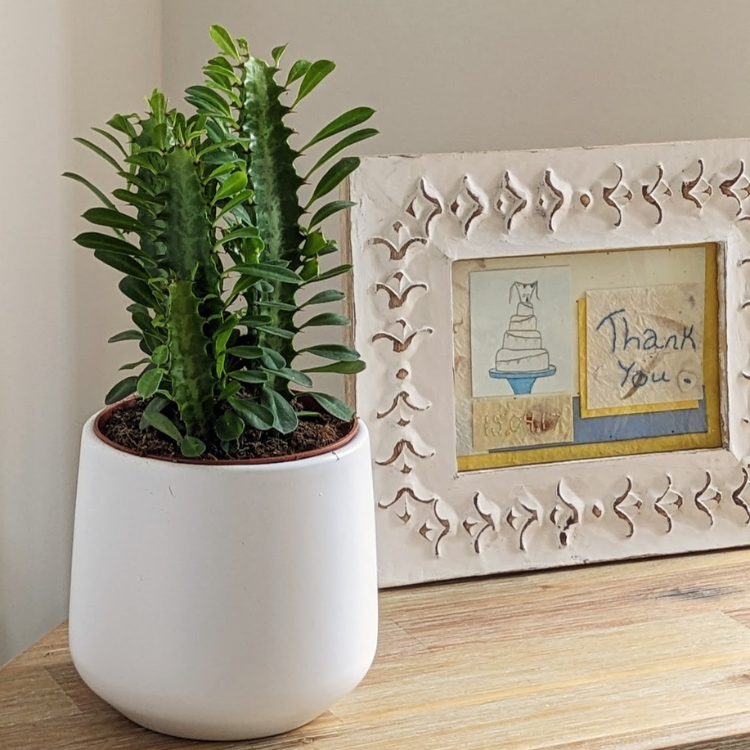 The Christmas cactus is as quirky as it gets! Almost all cacti love direct sun (full sun). So, be sure to put them in a sunny spot like a windowsill. Not only is it a comedic Christmas plant, but it's also part of our (almost) Unkillable Plants range.
At £16.99, the Christmas Cathedral Cactus makes a perfect gift under £20. If your gift recipient needs a plant for their bathroom, kitchen, or workspace, then you should definitely get them this prickly present!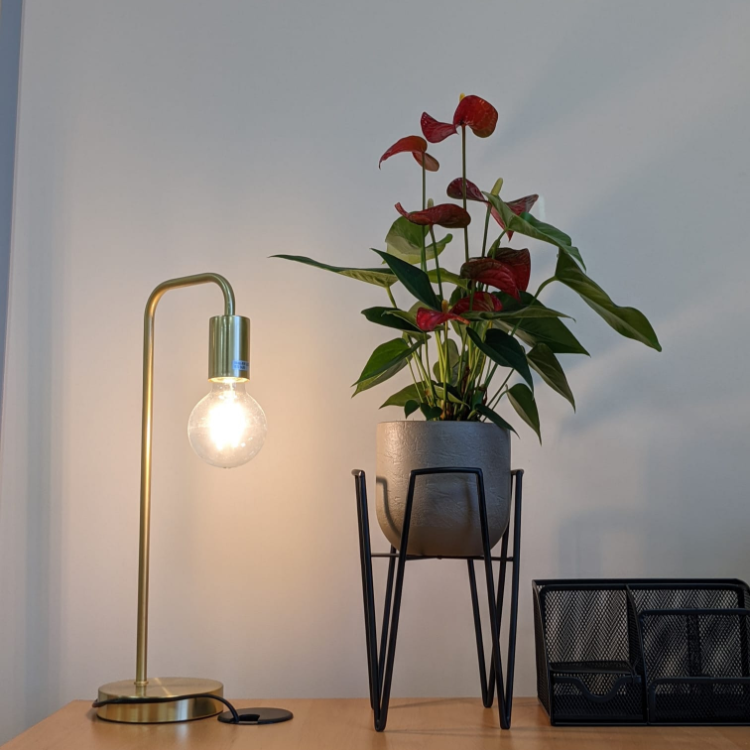 Nothing quite embodies the colours of Christmas like an Anthurium! An anthurium's shining feature are its brightly coloured leaves. With red Christmas flowers and glossy green leaves, it is the perfect Christmas gift.
This indoor house plant adds a wonderful pop of colour to your home and will keep its red leaves all year round (well beyond Christmas…)! Being on the smaller side, the Anthurium can work anywhere in the home from the coffee table to the windowsill. So, it's a great gift for someone you love.
5. Snake Plant (Sansevieria)
The Snake Plant is the hardiest of all houseplants! This makes it absolutely perfect for those who are simply hopeless at gardening and horticulture… If you're looking for the perfect present for the not-so-green-fingered, then you certainly can't go wrong with a Snake Plant.
This indoor plant will even thrive in the colder conditions of a UK winter. Just make sure you keep it well away from any open windows or draughts. This indoor plant has stiff green leaves with pale green variegations. It also prefers shade to full sun.
6. Marble Queen (Epipremnum Aureum "Marble Queen")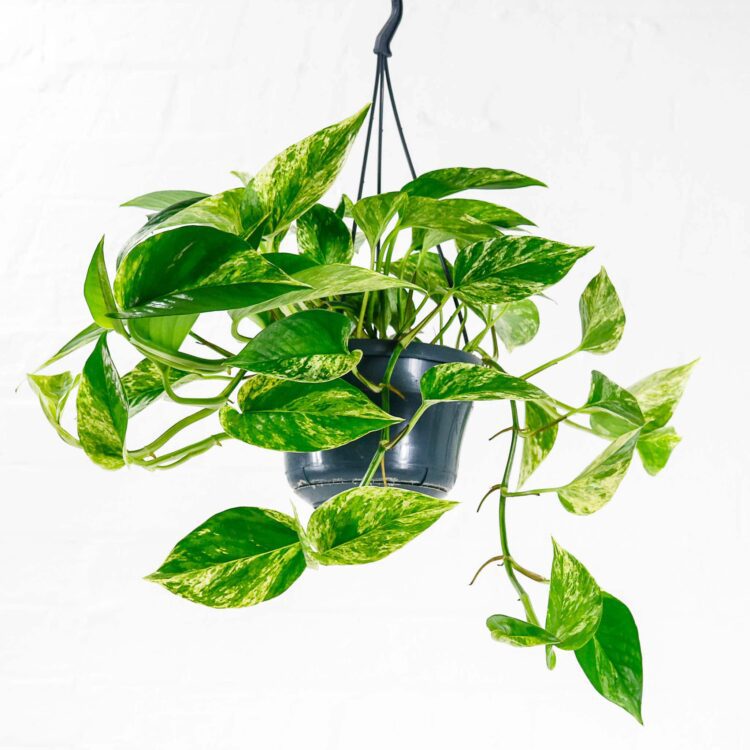 The Marble Queen is the princess of Christmas. Nothing quite says "Christmas plants" like a plant with heart-shaped leaves and dustings of snow white. This indoor plant will thrive in indirect light and can certainly take the cold temperatures of the Christmas period in its stride!
If you mist regularly and make sure not to over-water, the Marble Queen will definitely have a wonderful time whilst you're out drinking mulled wine!
7. Peace Lily (Spathiphyllum)
What could you want more than a little bit of peace at Christmas? At Oxy-Plants, we can't promise world peace. We can't even help you with 5 minutes of peace and quiet on Christmas day… What we can provide you with is a Peace Lily.
The Peace Lily loves full to partial shade all year round, so Winter shouldn't be an issue. The peace lily even has fragrant flowers that are as white and delicate as snow. This plant loves consistently moist soil, so if you're prone to over-watering, it might make an ideal gift for you!
8. Cast Iron Plant (Aspidistra)
If you're looking for the perfect Gift for Him, then you can't go wrong with a Cast Iron Plant. This easy-care indoor plant has healthy green leaves that look perfect all year round (even throughout the holiday season).
Cast Irons are popular gifts all year round for male customers. They do not require much light or TLC. Keep them in partial shade and everything should be grand! Be sure to keep your Cast Iron Plant in well-drained soil.
9. Chinese Evergreen (Aglaonema)
Chinese evergreens are known for their attractive, variegated leaves. They are adaptable to low-light conditions (partial shade) and are relatively low-maintenance. That makes them perfect as a Christmas gift.
At £20, the Chinese evergreen is the perfect gift for the holiday season. If it's not for Christmas day, then it'll certainly double up as a gift for Chinese New Year!
10. Aloe Vera (Barbadensis)
The Aloe vera is a succulent with fleshy, spiky leaves. It is not only a popular indoor plant but also has medicinal properties, particularly for soothing burns and skin irritations. So, if you're feeling a bit groggy over the Christmas period, then an Aloe Vera may be of some use to you!
The Aloe Vera is another of our easy-care plants. Provide it with bright light and direct sun as well as dry soil, and everything should be ok! It's perfect as a desk warmer.