SAVE 33%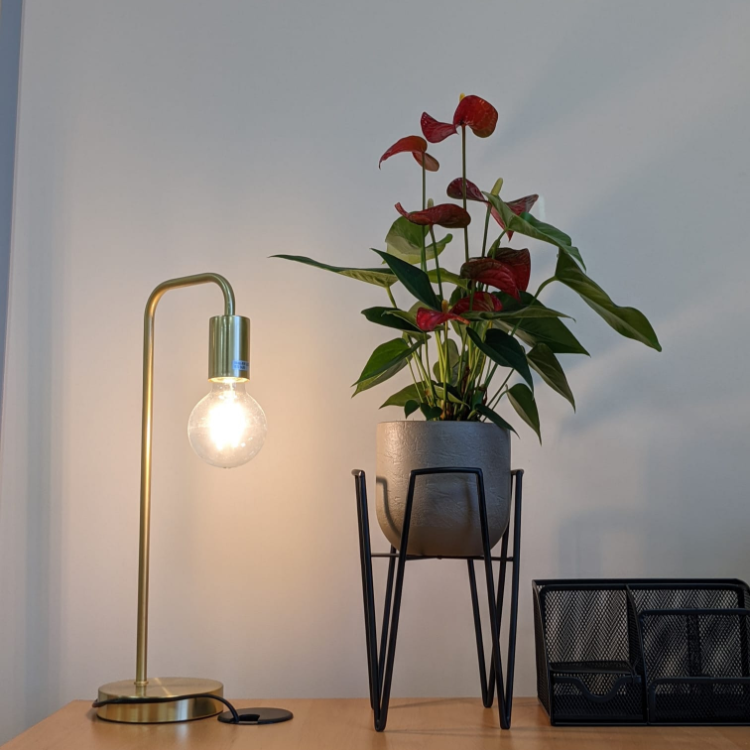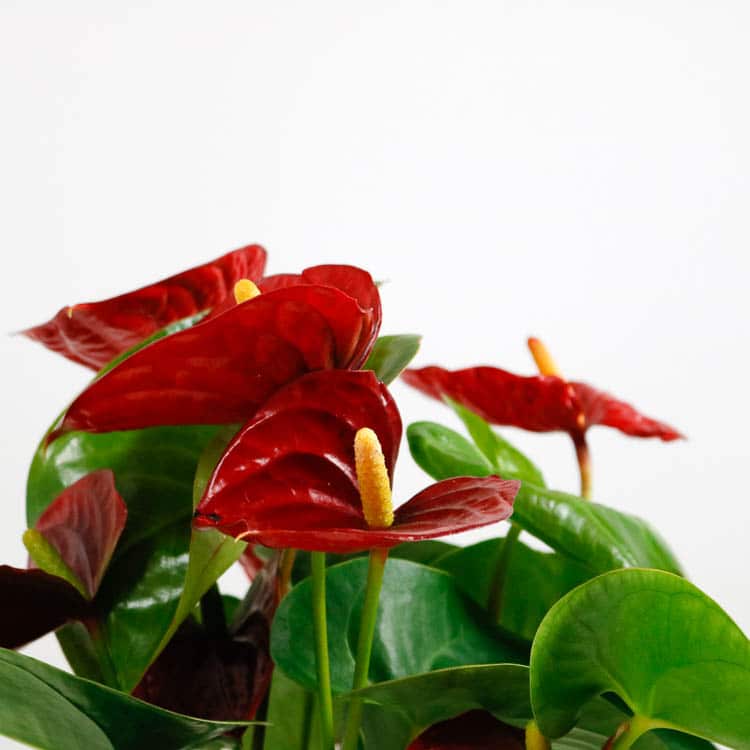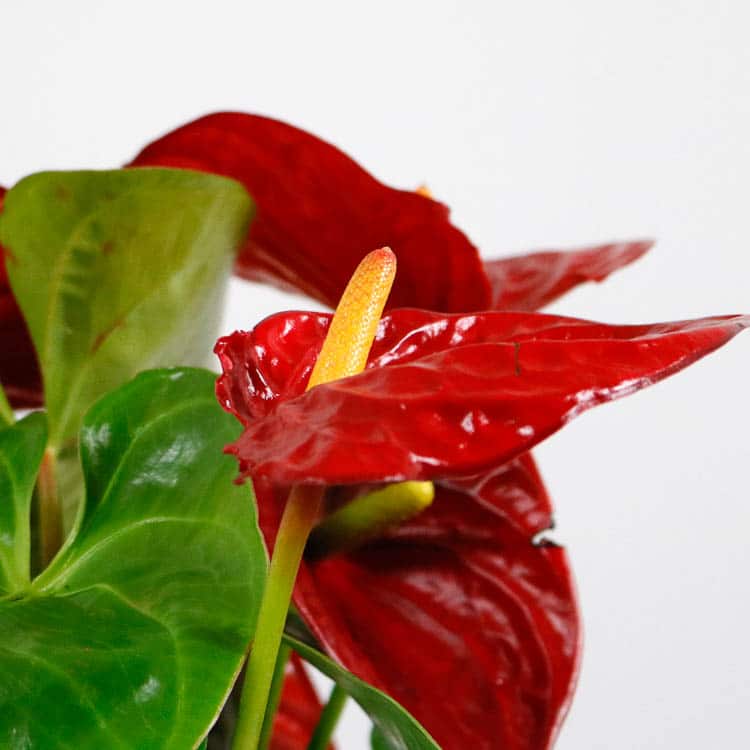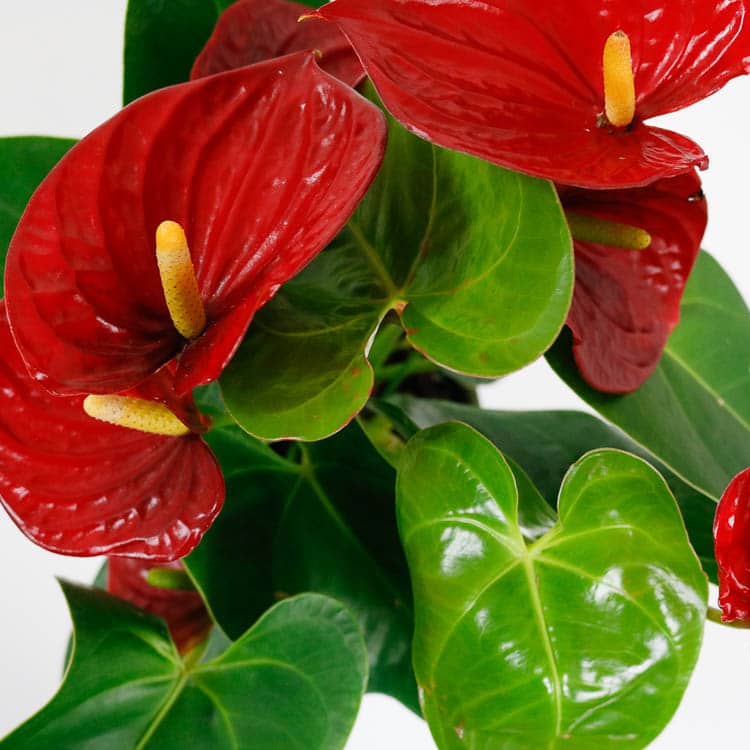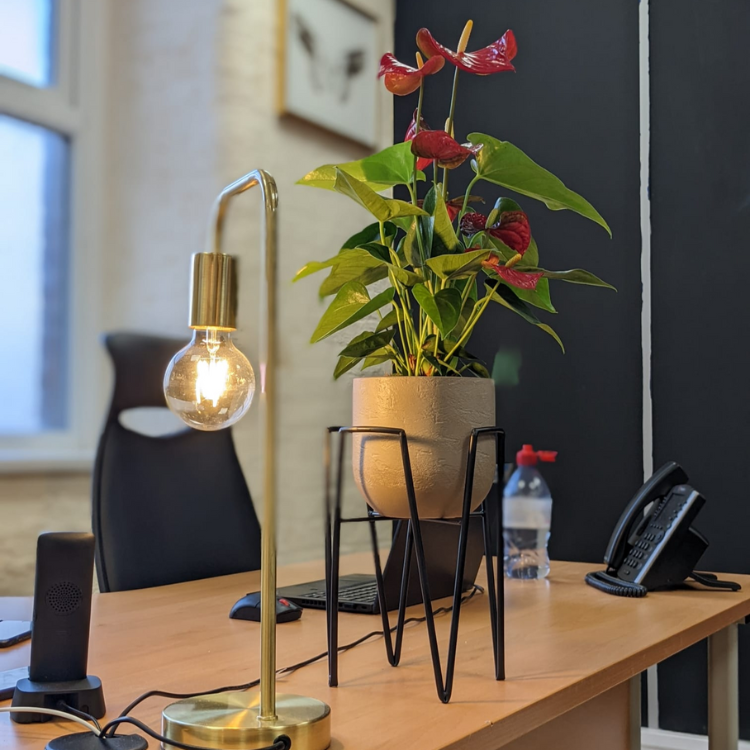 Anthuriums shining feature are its brightly coloured leaves. This indoor house plant adds a wonderful pop of colour to your home and will keep its red leaves all year round! Being on the smaller side, Anthurium can work anywhere in the home from the coffee table to the windowsill!
Plant Height: 50cm Pot Size: 14cm
How To Care For Anthurium
Care for your Anthurium with these
Native to the tropical rainforests of Central and South America, the Anthurium is a fantastic showstopper for any garden, home, or office! Renowned across the globe for their red, glossy flowers and arched yellow tails, this indoor house plant is great choice for those wanting to inject a little bit of colour into a room. The Laceleaf blooms are also heart-shaped, also making them an ideal a gift for a loved one or relative!
Did you know the name 'Anthurium' was derived from the Greeks? Literally translating into English as 'flowering tail', this is likely due to the plant's spadix (that's the yellow part!) towering above its red protector.
One positive of the Anthurium is that it can be kept both indoors and outdoors! In both scenarios, be sure to keep them in mild, temperate climates and keep them out of the direct sunlight. Remember, they're native to the rainforest so a weekly mist wouldn't go amiss.
What's even better is that Anthuriums are evergreen plants, meaning they keep their flowers all year round. Whether the view out of your window is of budding spring or a winter wonderland, one constant will always be the brightly coloured Anthurium on your mantlepiece, desk, or coffee table. However, if you're keeping your plant alive in winter, it's better to keep it out of any drafts or cold rooms (just to be sure).
Anthuriums are also list, by NASA, as air purifying! there is northing better than knowing items in your house are keeping you happy and healthy! These air-purifying plants help to remove toxins such as formaldehyde, toluene, and ammonia from your home or workplace. If you're looking for more information on Anthurium plant care, we found this article by Gardener's World to be a great source of information!
Please Note: Anthuriums are poisonous to people and pets as they contain calcium oxalate crystals. If its sap gets on your skin or eyes, this may cause irritation. If you have young children or pets, it may be wise to keep this out of reach and raised from the ground.
Please note: this plant comes in a plastic nursery pot. Browse our entire range of plant pots to add that extra charm and character to your home.
Air Purification Qualities
Yes! They remove harmful toxins such as formaldehyde, ammonia, toluene, and xylene.
You may also like...
Indoor Plants

,

Air Purifying Plants

,

Climbing Plants

,

Hanging Plants

,

Kitchen Plants

,

Living Room Plants

,

Medium Sized Plants

,

Outdoor Plants

,

Plant Sale

,

Trailing Plants

,

Small Indoor Plants

Hedera Helix

£

12.50 Add to basket

Indoor Plants

,

Air Purifying Plants

,

Bathroom Plants

,

Bedroom Plants

,

Easy Care Plants

,

Home Office Plants

,

Living Room Plants

,

Medium Sized Plants

,

Shade Liking Plants

,

Unusual Plants

,

Large Indoor Plants

Zamioculcas Zamiifolia

From

£

14.99 Select options

Indoor Plants

,

Air Purifying Plants

,

Bedroom Plants

,

Big Leaf Plants

,

Child & Pet Friendly Plants

,

Easy Care Plants

,

Home Office Plants

,

Living Room Plants

,

Medium Sized Plants

,

Shade Liking Plants

,

Large Indoor Plants

Aspidistra Elatior

From

£

24.99 Select options
Breathe life into your business with indoor plants.
We consult, design, maintain and replace plants in businesses across the North West. We also deliver indoor plants to businesses nationwide, so you can green your team or treat them to a gift that will grow for years.
We use cookies on our website to give you the most relevant experience by remembering your preferences and repeat visits. By clicking "Accept", you consent to the use of all the cookies.
Privacy Overview
This website uses cookies to improve your experience while you navigate through the website. Out of these cookies, the cookies that are categorized as necessary are stored on your browser as they are essential for the working of basic functionalities of the website. We also use third-party cookies that help us analyze and understand how you use this website. These cookies will be stored in your browser only with your consent. You also have the option to opt-out of these cookies. But opting out of some of these cookies may have an effect on your browsing experience.
Necessary cookies are absolutely essential for the website to function properly. This category only includes cookies that ensures basic functionalities and security features of the website. These cookies do not store any personal information.
Any cookies that may not be particularly necessary for the website to function and is used specifically to collect user personal data via analytics, ads, other embedded contents are termed as non-necessary cookies. It is mandatory to procure user consent prior to running these cookies on your website.