Hello! we're Oxy-Plants,
A small, independent, online plant delivery company based in Bolton, the beating heart of Lancashire. Founded by a hard-working Boltonian, John Maree, he has a real passion for plant care and a belief that indoor plants can improve your mental health. To this day, John continues to do everything he can for people and the environment, alike. To this day, he believes that houseplants can improve people's lives and spread joy in their homes!
At Oxy-Plants, we believe in three guiding principles: sustainability, opportunity, and efficiency. With these three goals, we think we've created a business that equally weights customer satisfaction and a better world for our children (and houseplants)!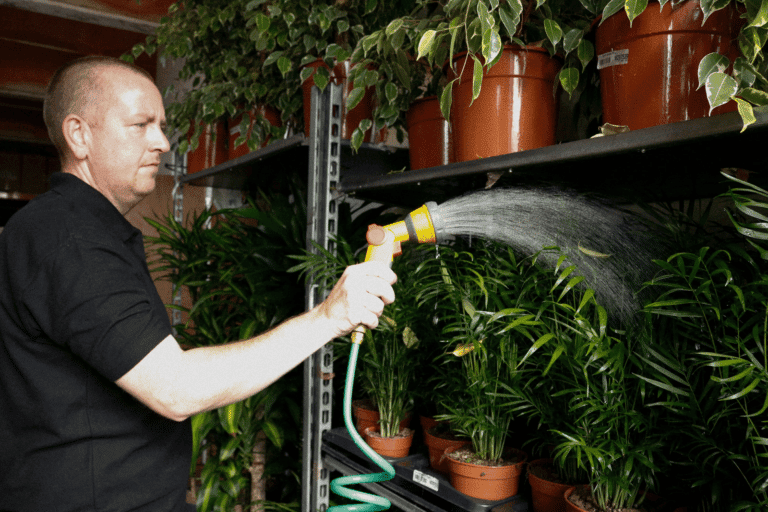 We're committed to developing a brand focused around a pledge towards sustainability. We aim to become a fully sustainable brand and partner with brands dedicated to the same causes as us. That's why we've got a team dedicated to forming new partnerships with companies just like us, that want to put the planet first!
Our delivery team is working on minimising the amount of plastic waste produced during the packaging process. We strive to use sustainably sourced products, like paper and cardboard, over that of single-use plastics and bubblewrap.
Oxy-Plants is also dedicated to working with local businesses and sustainable brands. Our most recent partnership is with a company called ELho. Situated in the Netherlands, all of Elho's products are made from 100% recycled plastic and using sustainable wind power.
We strongly believe in trying to reduce our carbon footprint by planting trees, which we have begun to do as of February 2022. We are working towards planting a tree for every plant purchased. 
We pride ourselves on giving opportunities to those who need them. Oxy-Plants is thriving with a young and dynamic workforce that are eager to learn and grow with the company. If you're ambitious and needing that first opportunity, then Oxy-Plants may be the company for you. 
As of October 2022, Oxy-Plants has four teams that are dedicated to giving you the best service: 
Product and Partnerships Team
Social Media Team
Customer Service 
Delivery Team
If you think you may be a suitable match for the Oxy-Plants family, then send in your CV and cover letter to: hello@oxy-plants.com. 
Oxy-Plants is also committed to taking the hassle out of online delivery. We cater to both kinds of customer; those that want express delivery and those happy with economy delivery.  
Both delivery methods have your houseplants at the centre of our care and attention. Even with 3-5 day delivery, our delivery team will do everything to ensure the health of your plants. All plants are placed in adequately sized boxes with supports in place to prevent movement during transit. Sometimes there is nothing worse than waiting all week for your houseplant, to have soil all over your carpet once it arrives!
We are still at the start of our journey and try to provide the best possible experience for all our customers. Please be patient with us. If there's anything wrong with your order or you're not happy and we'll do our best to try and sort it wherever possible. If you have any questions, it could be worth checking out our Frequently Asked Questions (FAQ's) or our delivery and returns page – if you can't find the information you're looking for here, feel free to contact us by sending an email to hello@oxy-plants.com or give us a call on 01204 845 451