Breathe life into your business with office plants to transform your working space.
We provide and maintain office plants to businesses in Manchester and across the North-West. Whether you work in a modern city-centre office or a run a small business in the suburbs; plants add charm & character to create a calming, welcoming environment.
We also deliver indoor plants to businesses across the country. So whether you want to treat your team for their hard work or transform your business with a living wall, we can find the right solution for you.
We help you choose the right plants for the right place in your space; from small desk plants, to showstopping large plants, to full living walls!
Let us deal with the mess. We'll pot your plants, bring them to you and install on site, so you can focus on your day job without getting your hands dirty.
We care for your plants long-term to keep them in their optimum condition – offering peace-of-mind, so you can carry on with the task at hand.
If any plants aren't quite upto our high standards (and can't be re-invigorated) we'll replace them, to ensure your office always looks fresh and full of life.
How do plants actually benefit your office and employees?
Plants remove carbon dioxide and harmful airbone toxins (VOC's) to improve your indoor air quality
UTS laboratory research shows indoor plants:
Have strong capacity to remove VOCs; and If concentrations rise, so do rates of removal
All species are about equally effective – main removal agents are normal root-zone bacteria; plant nourishes & regulates its microorganisms (symbiosis)
Hydroculture plants work also (just a bit slower to get started)
VOC's are removed day and night (24/7)
Absorbed VOC's don't accumulate — broken down to CO2 and water
Studies show that plant presence in offices and work environments improve concentration & productivity up to 10%
Indoor plant presence increases productivity, performance, job satisfaction, by >10%, measured by:
Faster times to complete computer tasks
Creative task performance
Sorting and editing tasks
Attention capacity
Job satisfaction (on all 10 criteria tested)
Promotes good office relationships
A European study by engineers/physicists found a 1% reduction in dissatisfaction with IAQ resulted in a 10% increase in productivity!(18) –
that means indoor plants repay more than the cost of their keep!
Reduce the symptoms of stress up to 50%
International research shows indoor plant presence reduces feelings of stress and negativity:
Lowered tension levels, using EEG, EMG & blood pressure readings
Survey questionnaires probing stress and/or negativity
UTS office study (55 staff; single offices) recorded average scores of reductions in stress and negative mood feelings of over 40% with plants in the office
Reduce short term absenteeism up to 60%
Medical research shows workplace stress reduces productivity and performance, & leads to illness; stress-related illness is a widespread urban health concern; and staff illness & sick-leave absences are used as direct indicators and measures of lost productivity(19-21).International research shows Indoor plant presence reduces illness and absences(22-24):
Sick-leave — from 20 to >60%
Coughing & wheezing — 35%>
Dry eyes, nose, throat — 20%>
Perceptions of pain — 25%
Fill in the form below and a member of our friendly team will contact you.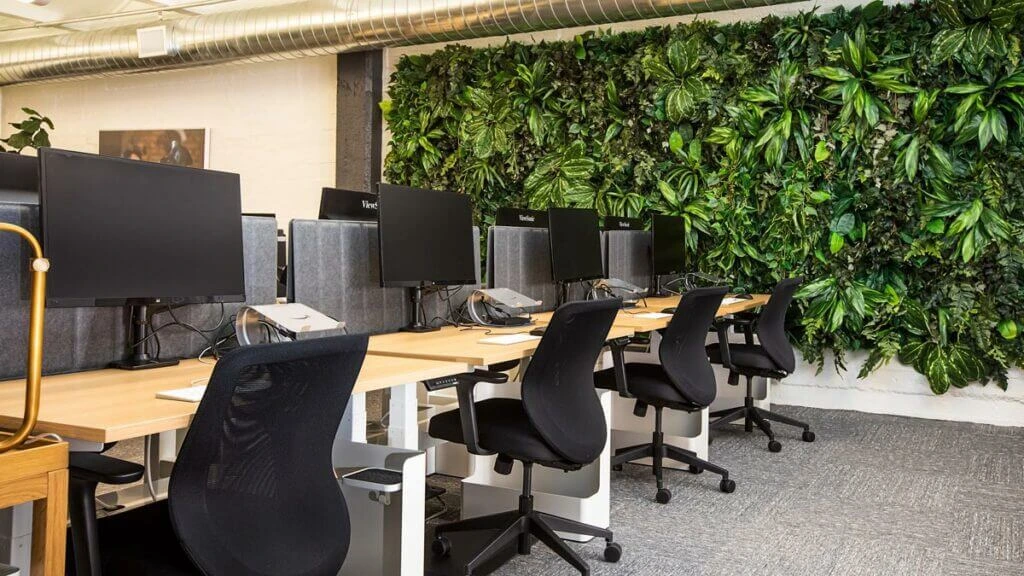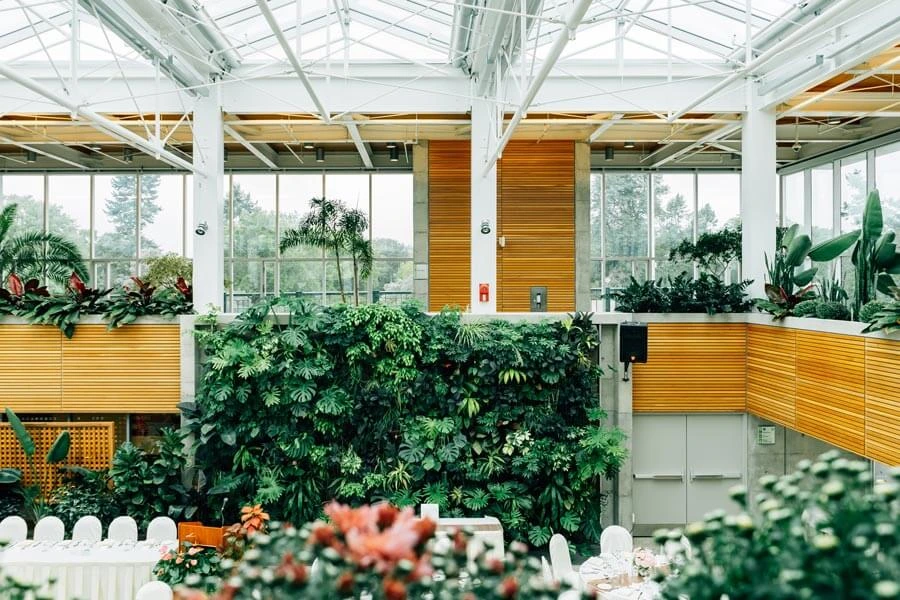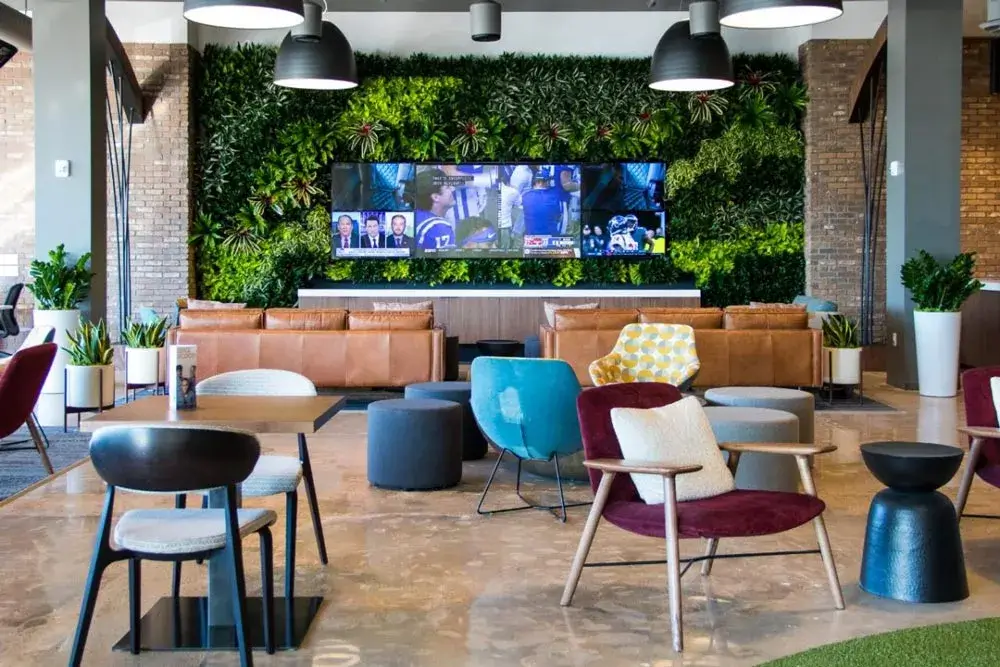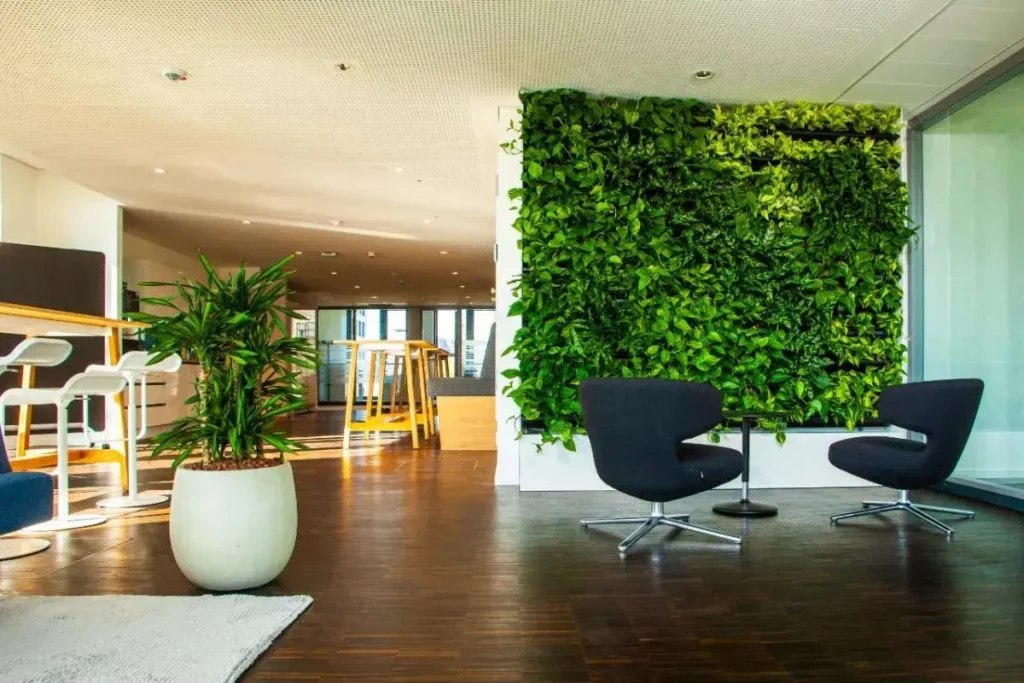 Transform your office with a living wall for maximum impact to create a stunning environment.
Office plants make staff more relaxed, boost productivity, well-being and overall health.
It has been scientifically proven that plant presence in the office can boost productivity by over 15%. By greening your office space, it simply says to staff and visitors that you care about them.
This seems to go a long way, with sick leave being reduced by upto 60% and their own well being improving by 60%.
Plus, we have selected plants that actively remove nasty pollutants and improve your indoor air quality.