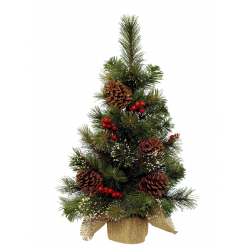 Artificial Christmas Tree (45cm)
This artificial Christmas tree (60cm) makes for a perfect Christmas decoration. Spanning just over half a metre, this indoor artificial tree will be perfect sitting on a coffee table, windowsill, or even kitchen counter!
Product Specification:
Height: 60cm
Colour: "pine green"
Contains: berries & pinecones
Base: included
About Artificial Christmas Tree (45cm)
Are you looking for the perfect artificial Christmas tree this year? Well, why not consider this indoor artificial tree? Spanning just under half a metre, this artificial Christmas tree (45cm) is perfect for any indoor office or home environment.
Christmas is that time of year that really brings the family together. Along with markets, mulled wine, and advent calendars, the Christmas tree is a must-have in any household! This artificial indoor tree looks best when placed on a coffee table, windowsill, or desk. If you want it on the floor, be sure to pair this product with a metal plant pot stand!
Real-Looking Artificial Christmas Tree
One of the main downsides to siding with an artificial plant or tree is that they can sometimes look fake! At Oxy-Plants, we believe in bringing the best to you! This artificial Christmas tree is truly deceptive and no one will be able to tell that it's faux!
The artificial Christmas tree comes equipped with real-looking pinecones and berries for that true Christmas accompaniment! If an artificial Christmas tree isn't for you, why don't you try a Poinsettia plant and a glossy ceramic curved pot? This is the perfect Christmas gift for those who would like a living indoor plant.
Perfect Christmas Gift or Decoration
The artificial Christmas tree makes the perfect Christmas gift or decoration for anybody! It comes readymade and there's no need to assemble. As it's 45cm tall, it bridges the gap between a decoration for the family home and a handy gift!
If you're not convinced about the artificial Christmas tree but would like to order a gift, then we have the answer! Why not take a look at our gifts for him and/or gifts for her page? Alternatively, we have a wide range of artificial plants that may tickle your fancy. Take a look at our Artificial Bird of Paradise, Artificial Hanging Ivy, and our Artificial Areca Palm.
Reusable Artificial Christmas Tree
One of the benefits of owning an artificial plant is that it is a truly reusable gift! Unlike other indoor plants or Christmas trees, the artificial Christmas tree will stay looking its best for years and years! When you're done, store your tree is a cool, dry place (like an attic or basement) and it should remain in tiptop shape.
One of the downsides of owning living plants is their constant need for pruning and plant-care. For any beginner, this can be a bit of a daunting task. Well, with this fake Christmas tree, there is none of that hassle. There's no need for pruning shears, fertiliser, or a watering can…
Next Day Delivery Available*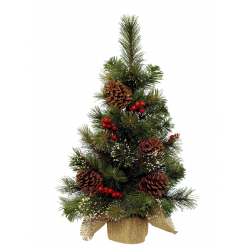 You're viewing: Artificial Christmas Tree (45cm)
£

14.99
Add to basket