View basket
"Horticultural Grit" has been added to your basket.
SAVE 30%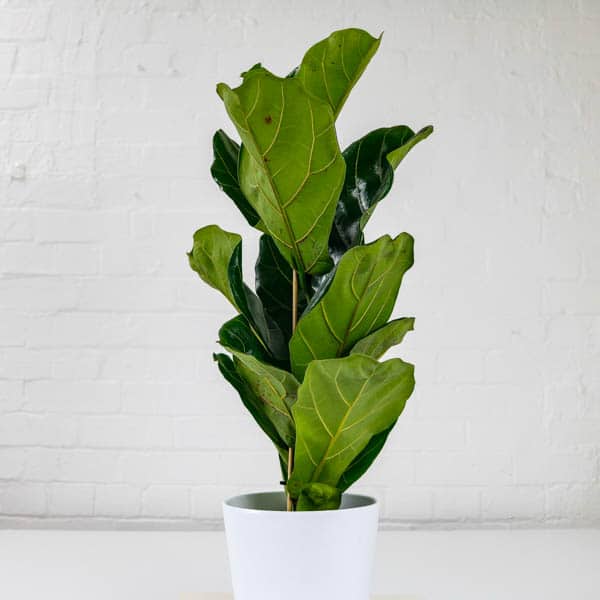 The fiddle leaf fig is a very popular indoor plant and can grow over 2m tall indoors. Their large, veinous, violin-shaped leaves are their shining glory and they thrive in warm, humid environments. Ficus Lyrata is a great choice as a large plant with broad leaves for anyone looking to impress their guests or create a stunning showpiece in their home.
How To Care For Fiddle Leaf Fig
Care for your Fiddle Leaf Fig with these
Known for its huge violin-shaped leaves, the fiddle leaf fig is highly effective at purifying the air due to its high transpiration rate, helping to remove CO2 from the environment and control humidity levels, particularly in environments that may use air conditioning.
Originating from the West African coast, the fiddle leaf has been known to flourish in low-land tropical climates. So, what does this mean for me? Be sure to keep your indoor plant well-watered and give it an occasional misting!
Coming in a range of different sizes, there are many different environments in which your fiddle leaf could be accustomed! Whether it's one for your work desk, coffee table, or a larger showstopper piece, we stock the perfect size for you!
Pruning your Fiddle Leaf Fig:
Remove yellow or dying leaves, and plant debris to keep your plant in its best condition.
While pruning, always use clean scissors or shears to reduce the chance of bacterial and fungal diseases.
When pruning, always cut as close to the stem as possible, as this will most likely stimulate new and exciting growth.
Read our full guide below on how to care for your fiddle leaf fig, or see the RHS guide here.
Is the Fiddle Leaf Fig Poisonous?
The fiddle leaf fig is classed as poisonous; if parts of the plants are eaten, vomiting, nausea and a loss of appetite could occur. Consumption of large quantities must be dealt with quickly; acquire medical assistance for further information. The sap can also cause dermatitis and skin allergy to sensitive individuals, so be sure to wear gloves when handling.
Please note: this plant comes in a plastic nursery pot. Browse our entire range of plant pots to add that extra charm and character to your home.
Air Purification Qualities
Height 100cm | Pot Size 21cm
Height 130cm | Pot Size 34cm
You may also like...
Indoor Plants

,

Air Purifying Plants

,

Bathroom Plants

,

Bedroom Plants

,

Climbing Plants

,

Easy Care Plants

,

Hanging Plants

,

Living Room Plants

,

Medium Sized Plants

,

Most Popular Plants

,

Plant Sale

,

Trailing Plants

,

Small Indoor Plants

Philonendron Scandens

From

£

14.99 Select options

Indoor Plants

,

Air Purifying Plants

,

Bathroom Plants

,

Bedroom Plants

,

Big Leaf Plants

,

Easy Care Plants

,

Hallway Plants

,

Home Office Plants

,

Kitchen Plants

,

Living Room Plants

,

Most Popular Plants

,

Plant Sale

,

Unusual Plants

,

Small Indoor Plants

Sansevieria Trifasciata Laurentii

From

£

7.50 Select options
Breathe life into your business with indoor plants.
We consult, design, maintain and replace plants in businesses across the North West. We also deliver indoor plants to businesses nationwide, so you can green your team or treat them to a gift that will grow for years.
We use cookies on our website to give you the most relevant experience by remembering your preferences and repeat visits. By clicking "Accept", you consent to the use of all the cookies.
Privacy Overview
This website uses cookies to improve your experience while you navigate through the website. Out of these cookies, the cookies that are categorized as necessary are stored on your browser as they are essential for the working of basic functionalities of the website. We also use third-party cookies that help us analyze and understand how you use this website. These cookies will be stored in your browser only with your consent. You also have the option to opt-out of these cookies. But opting out of some of these cookies may have an effect on your browsing experience.
Necessary cookies are absolutely essential for the website to function properly. This category only includes cookies that ensures basic functionalities and security features of the website. These cookies do not store any personal information.
Any cookies that may not be particularly necessary for the website to function and is used specifically to collect user personal data via analytics, ads, other embedded contents are termed as non-necessary cookies. It is mandatory to procure user consent prior to running these cookies on your website.