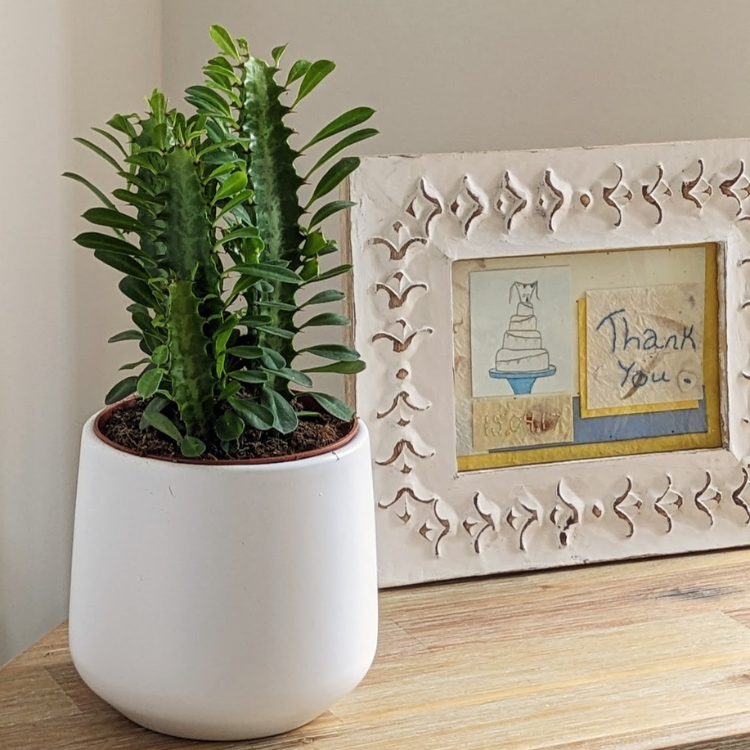 The Cathedral Cactus ("Euphorbia Trigona") is perfect for those who want a desert twist for their home or workspace. This easy-care plant loves brightly lit spots, like a windowsill or conservatory. Just make sure it's warm!
Plant Height: 30-50cm Pot Size: 12cm
How To Care For Cathedral Cactus
Care for your Cathedral Cactus with these
Looking to bring a desert twist into your home? The Cathedral Cactus, sometimes called "Euphorbia Trigona", is a plant native to the deserts of Central Africa. In more recent years, the Cathedral Cactus has found itself a new home sitting on windowsills and in greenhouses all across the UK! If you're looking for a cactus plant without much threat of sharp, and prickly spines, then you should definitely consider one of these Cathedral Cactus Plants.
Believe it or not, the Cathedral Cactus is remarkably similar to the African Milk Tree. The main difference between the two is stem colour. Whilst the African Milk Tree can sometimes produce reddish looking stems, the Cathedral Cactus is a more traditional-looking green.
Like many cacti species, the Cathedral Cactus is one of the hardiest plants on earth. This plant's needle-like thorns and triangular ridges are designed to funnel water down to its roots, making it a desert survival specialist! It even stores water in its thick, green stem. With this in mind, the Cathedral Cactus is definitely one of our easy-care houseplants. It'll make a perfect gift for beginner gardeners and the not so green-fingered. If it can manage in the desert, it'll love your home!
If you're wondering how to care for your Cathedral Cactus, it's plain and simple! Place your cactus in the sunniest spot you have in the house. A south-facing window would be perfect. Water this plant as little as possible (to avoid over-watering) and add a little bit of cactus fertiliser during the growing season. It may even bloom white flowers if you're lucky!
Caution: the cathedral cactus is a cactus and may have spiky thorns. It is also toxic to pets and humans (contains latex). As such, it may be unsuitable for a home with adventurous toddlers and furry friends!
Please note: this plant comes in a plastic nursery pot. Browse our entire range of plant pots to add that extra charm and character to your home.
African Milk Tree, Cathedral Cactus, Friendship Cactus
Air Purification Qualities
No – Toxic to pets and humans
Next Day Delivery Available*
Breathe life into your business with indoor plants.
We consult, design, maintain and replace plants in businesses across the North West. We also deliver indoor plants to businesses nationwide, so you can green your team or treat them to a gift that will grow for years.