SAVE 25%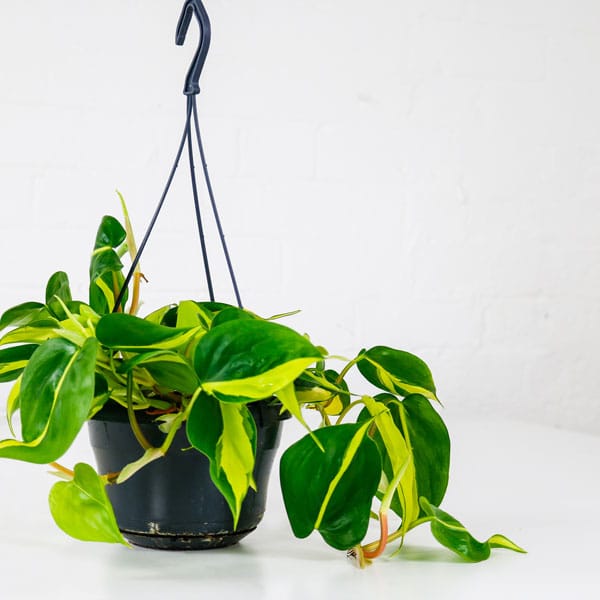 The Heartleaf Philodendron has full green heart shaped leafs and looks great in a hanging basket and is easy to care for.
How To Care For Heartleaf Philodendron
Care for your Heartleaf Philodendron with these
About Heartleaf Philodendron
The Heartleaf Philodendron is a popular hanging plant because of its romantic heart-shaped leaves. It has a ferocious appetite for growth and will happily trail from any bright spot. Philodendron Scandens are easily propagated by taking cuttings at leaf nodes and allowing roots to develop, meaning it can be the gift that keeps on giving (if you have the patience and dedication).
We have 2 varieties of the Heartleaf Philodendron, including the variegated 'Brazil' version. If the heart-shaped leaves of the philodendron weren't beautiful enough already, the variegated version takes it's beauty to another level. If you can't think of where would be good to keep your hanging plant, you can always consider adding a floating shelf.
Scroll down to read our Heart Leaf Philodendron care guides. Our checkout our general plant care.
Please note: this plant comes in a plastic nursery pot. Browse our entire range of plant pots to add that extra charm and character to your home.
Air Purification Qualities
Toxic to humans and pets, because of varying concentrations of calcium oxalate crystals in the plant.
You may also like...
Indoor Plants

,

Bedroom Plants

,

Easy Care Plants

,

Garden

,

Hallway Plants

,

Home Office Plants

,

Indoor Bonsai Trees

,

Living Room Plants

,

Outdoor Plants

,

Outdoor Trees

,

Patio & Decking

,

Plant Sale

,

Shade Liking Plants

,

Shady Spot

,

Unusual Plants

,

Small Indoor Plants

Ficus Microcarpa Ginseng

From

£

11.99 Select options
Breathe life into your business with indoor plants.
We consult, design, maintain and replace plants in businesses across the North West. We also deliver indoor plants to businesses nationwide, so you can green your team or treat them to a gift that will grow for years.