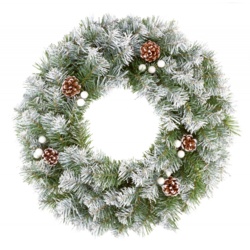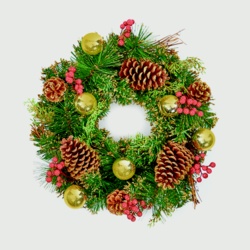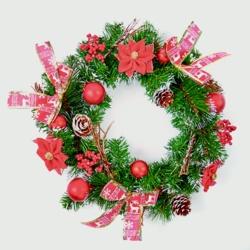 Decorative Christmas Wreath (40cm)
If you're looking for a wreath to put on your door this year, then take a look at this Decorative Christmas Wreath (40cm)! This product is perfect for any indoor or outdoor threshold and will put up with any weather a UK Winter will throw are it! This Christmas wreath comes in three variable colours, meaning we have a wreath to fit in seamlessly with your existing decorations!
About Decorative Christmas Wreath (40cm)
The Christmas wreath is a must-have item for any household serious about Christmas! The circular shape and evergreen colour make the Christmas wreath a well-known symbol of eternal life! For Christians around the world, a decorative wreath symbolises a household's acknowledgement of Christ's birth on Earth!
Quality Artificial Wreath
This artificial wreath is a high-quality artificial plant product. It has a diameter of (40cm), making it suitable for any door in the UK. As this product is artificial, it is also suitable for indoor and outdoor use. What makes this artificial wreath even better is that it can be stored away in your attic or basement when not in use, making it reusable.
If this Christmas wreath isn't for you but you would like to order a Christmas gift for a friend or loved one, why not try our artificial plants range? From dainty artificial hanging plants to whoppers like the Artificial Bird of Paradise plant, we have everything you need in a Christmas gift! If your recipient loves looking after living plants, then we recommend the large plant care gift set!
Three Colours (Gold, Pink, White)
The artificial wreath comes in three colours: gold, pink, and white. These wreaths will blend seamlessly into any household and work nicely with any existing Christmas decorations you already own.
Gold and White Christmas wreaths come with lifelike pinecones and dainty baubles. The pink wreath comes attached with ribbons and flowers!
Next Day Delivery Available*