Please choose product options by visiting Neem Oil.
Vitax Bonsai Soluble Feed
Vitax Bonsai Soluble Feed is a specially developed fertiliser with relatively high phosphorus and potash levels. This helps to strengthen stems and root systems without causing excessive lush top growth. This soluble bonsai feed is suitable for most bonsai species, including, ericaceous or lime-hating plants.
About Vitax Bonsai Soluble Feed
Why Choose Vitax Bonsai Soluble Feed?
Investing in a high-quality fertiliser is essential if you want your bonsai tree to flourish in your home.  Unlike other indoor plants, Bonsais require a specific blend of nutrients from the soil in which they preside. Vitax Bonsai Soluble Feed offers a perfect 10:25:25 NPK blend allowing your bonsai's roots and stem to strengthen and grow without creating uncontrollable flourishing foliage! Use this fertiliser during the growing season alongside consistent watering in order to keep your bonsai healthy.
Directions for Use:
Mix 1 measure (0.5g) of Vitax bonsai feed in 1 litre of water and apply during the growing season, every two weeks from March to October.
DO NOT apply this directly to the soil. This may cause the roots of your bonsai to burn and,  ultimately, die.
Next Day Delivery Available*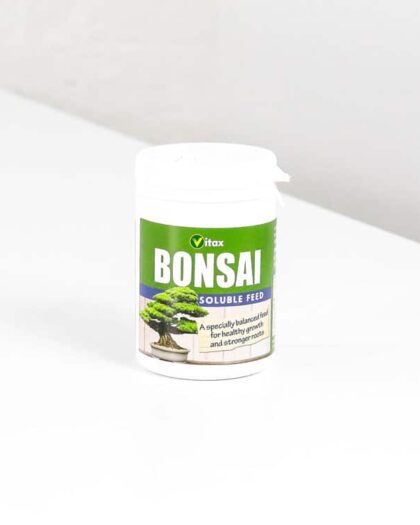 You're viewing: Vitax Bonsai Soluble Feed
£

9.99
Add to basket