SAVE 15%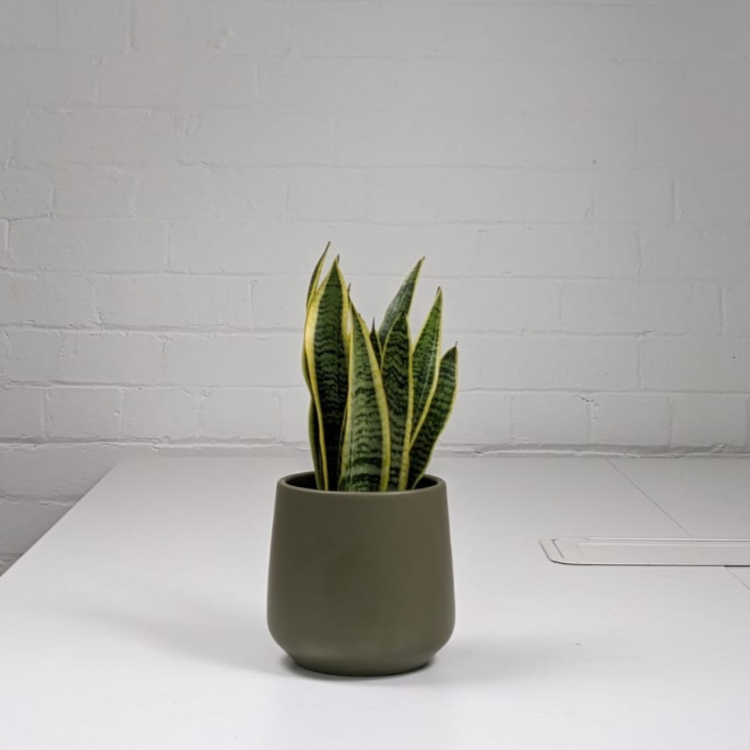 Looking for a gift this Valentine's Day? Why not buy yourself, or a friend, a Snake Plant & Pot…
Snake Plant (30-50cm)
13cm Tapered Matte Ceramic Pot (Green)
How To Care For Your Snake Plant & Pot
Give your snake plant plenty of sun. A south facing, windowsill would be perfect.
Snake plant are extremely drought resistant. It's always better to err on the side of caution with this snake plant & pot bundle!
This plant loves the occasional mist. Why not use one of our plant misters?
Next Day Delivery Available
12 cm Tapered Ceramic Pot (Matte)
The Snake Plant and Pot is a perfect plant bundle for those new to gardening, or are prone to the occasional plant care gaff! Great for beginners, the Snake Plant is one of our top 10 (almost) unkillable houseplants! The Snake Plant will literally live anywhere in your home with no issue, from the bathroom to conservatory.
Included in this plant bundle is:
Snake Plant (30-50cm)
12 cm Tapered Ceramic Pot (Matte)
Snake Plant: Rugged Dependability
Commonly referred to as mother-in-law's tongue, the Snake Plant is a resilient succulent that can grow anywhere between 6 inches to several feet. In this bundle, you can purchase a snake plant between 0-30cm and watch it grow all the way into maturity!
This indoor houseplant is perfect for those new to plant care. Simply, water it occasionally and it'll grow, grow, grow!
Tapered Ceramic Pot (Matte): Sleek and Elegant
This tapered ceramic pot has a sleek matte finish that will fit in any scandal inspired home. It is lauded by interior designers for its sleek finish, minimal design and smooth texture. Go on, add a smidge of style and class to your home with this indoor ceramic pot.
Don't like the colour? We're happy to swap out your pot for something you like the look of! Just give us a call or email us. We're always happy to help!