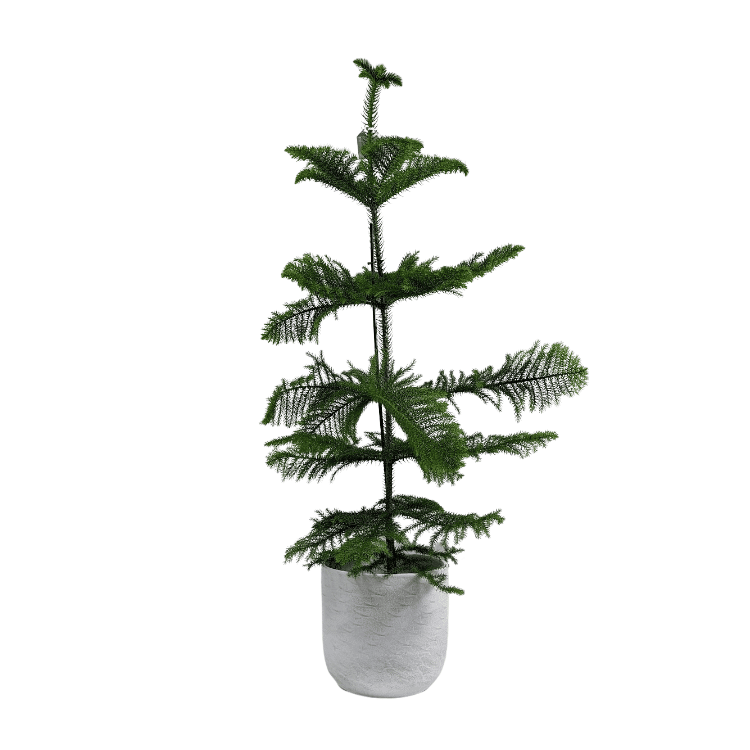 Fancy bagging yourself a living, reusable Christmas tree? Well, the Norfolk Island Pine doubles up as an elegant houseplant in the summer and a festive favourite in the winter!
Plant Height: 100cm Pot Size: 21cm
How To Care For Norfolk Island Pine
Care for your Norfolk Island Pine with these
About Norfolk Island Pine
Looking for the perfect living Christmas Tree? Well, look no further. Bring the Christmas spirit in with a Norfolk Island Pine Tree. This indoor houseplant will happily take all the tinsel and baubles you have to throw at it!
Believe it or not, this houseplant isn't actually a huge fan of British Winters. The Norfolk Pine prefers to live in tropical climates that are warm and moist. To keep it happy and healthy, be sure to follow our plant care guide below. This will show you how to care for a Norfolk Island Pine!
To regulate the growth of your Norfolk Pine, be sure to place it in the right plant pot. The larger pot you use, the larger it is going to grow. Moreover, if you're wanting to keep on top of plantcare, why not purchase some: secateurs, a watering can, and some Insecticidal Soap Spray?
Keep your Norfolk Island Pine Growing All Year Round
Have you ever gotten to mid-January and found yourself left with a dying Christmas tree that you need to dispose of? Well, save yourself the hassle of going to a refuse centre and breaking out the vacuum to suck up all the pine needles.
The Norfolk Island Pine is exactly the same as any other houseplant you own, being kept alive in soil. Once Christmas is done, simply take your decorations of this outdoor houseplant, give it a little TLC, and place it in another spot in your home.
Having a Norfolk Island Pine at Christmas means you have one less item to bin or waste. Unlike wrapping paper, bits of plastic, and typical Christmas trees, this houseplant is completely reusable.
Please note: this plant comes in a plastic nursery pot. Browse our entire range of plant pots to add that extra charm and character to your home.
Norfolk Island Pine (Norfolk Pine)
Air Purification Qualities
Mildly toxic to casts and dogs
Next Day Delivery Available*
Breathe life into your business with indoor plants.
We consult, design, maintain and replace plants in businesses across the North West. We also deliver indoor plants to businesses nationwide, so you can green your team or treat them to a gift that will grow for years.