SAVE 17%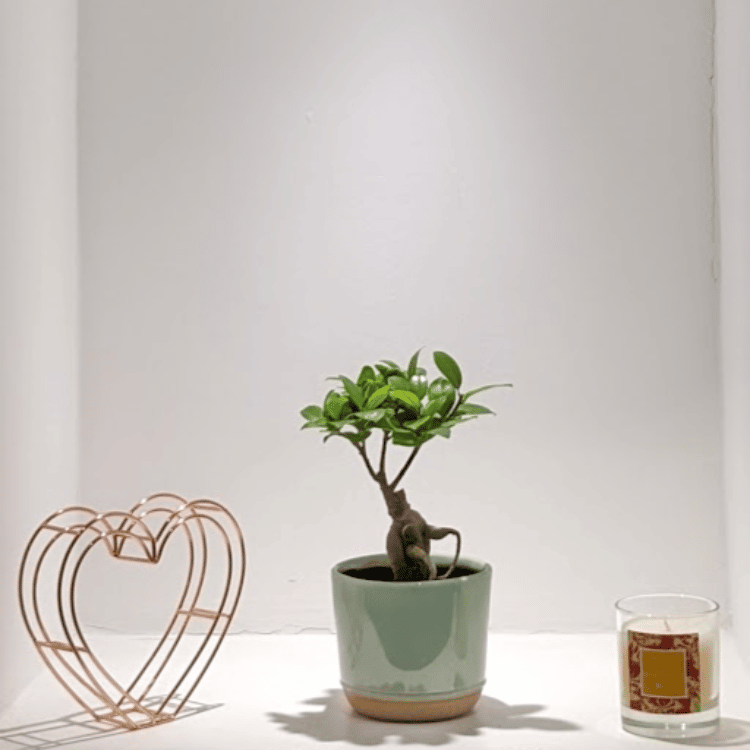 Ginseng Bonsai & Glazed Pot
The (Ginseng) Microcarpa Bonsai & Glazed Pot bundle is the perfect gift for a friend or family. Whether it's for a university room, or a kitchen counter, this plant & pot bundle is a sleek and stylish addition to any home
How To Care For Your Ginseng Bonsai & Glazed Pot
Keep in a brightly lit area close to a window but out of direct sunlight for optimum conditions.
Water when the top third of the soil has dried out and let it dry out more during autumn and winter. For those in shadier places; water when half of the soil has dried out to counteract the chance of over-watering, especially in the winter months. If the plant is starting to get stunted growth, dry spots appearing on the leaves and yellowing older leaves. Than the plant is or under-watered, is in a too bright/hot spot, is potbound or pot-bound. If the plant starts getting yellowing lower leaves, brown mushy patches developing in the stems and mouldy soil. Than the plant is or over-watered, gets too little light, has lack of drainage or incorrect soil  and possibly got root rot.
Bonsais love a humid environment. Be sure to keep your bonsai away from radiators and give your plant a mist every so often. To go the extra mile, why not introduce a humidity tray over the colder months of the year?
Next Day Delivery Available
1x Ginseng MicroCarpa Ficus Plant (0-30cm)
About Ginseng Bonsai & Glazed Pot
Looking for the perfect gift this Christmas? Looking to treat yourself or a friend? Well, look no further. This Ginseng & Glazed Pot bundle is the perfect gift for a friend or family member.
This Ginseng & Glazed Pot bundle will fit seamlessly into a range of home decor situations, bringing a dash of much needed colour into any room! Go on, treat yourself…
Included in this Ginseng & Pot Bundle:
1x Ginseng Ficus Bonsai (0-30cm)
1x Glazed Ceramic Plant Pot