Sale!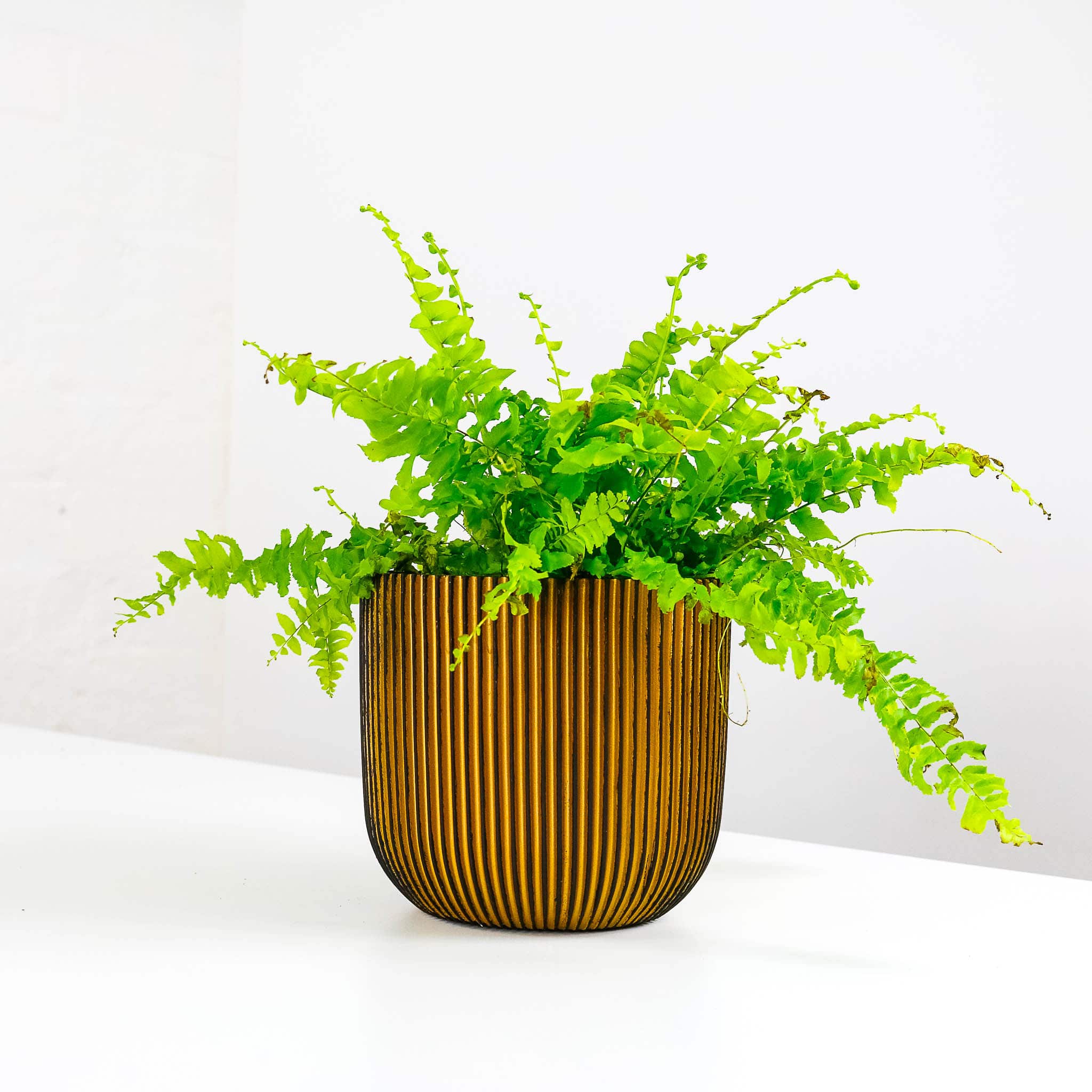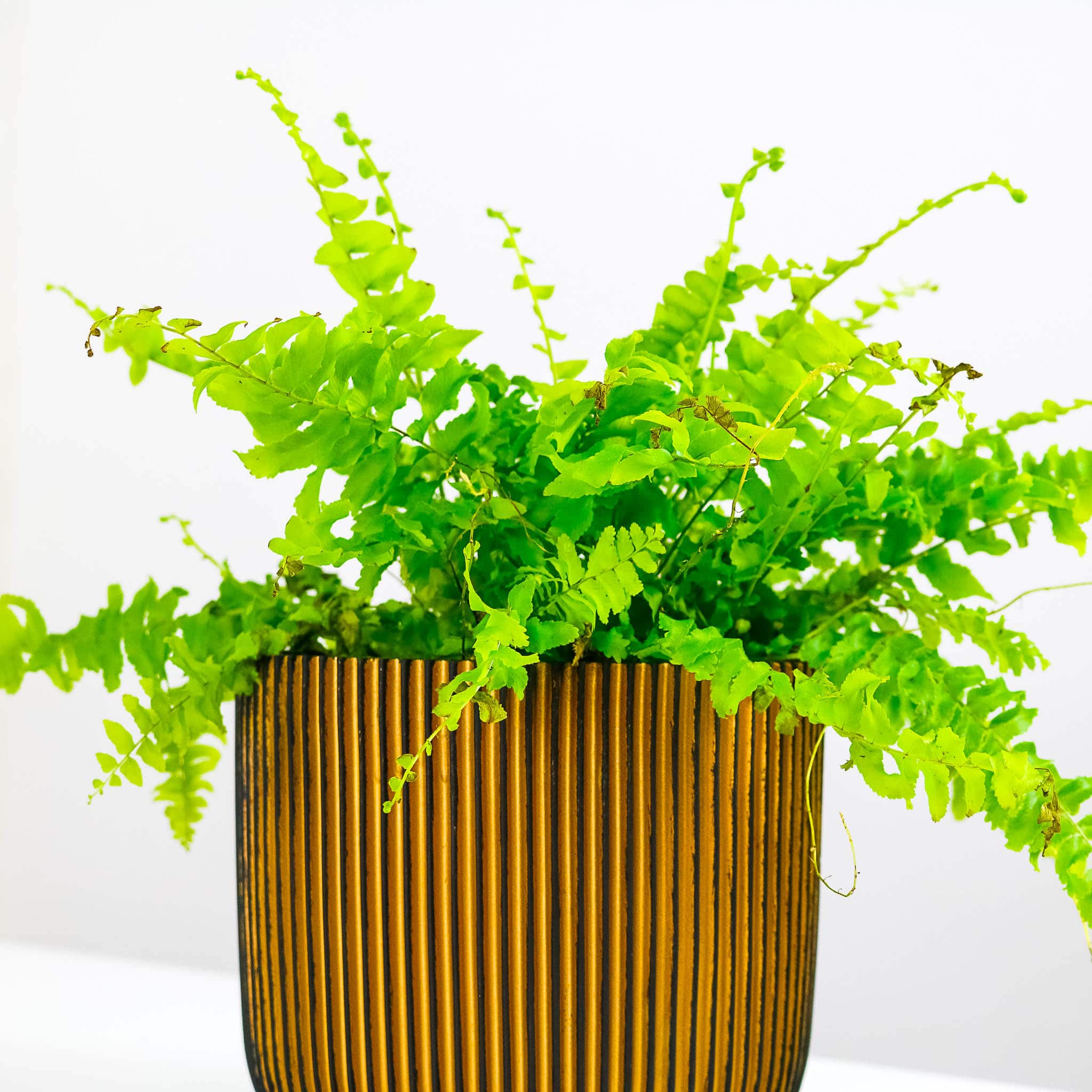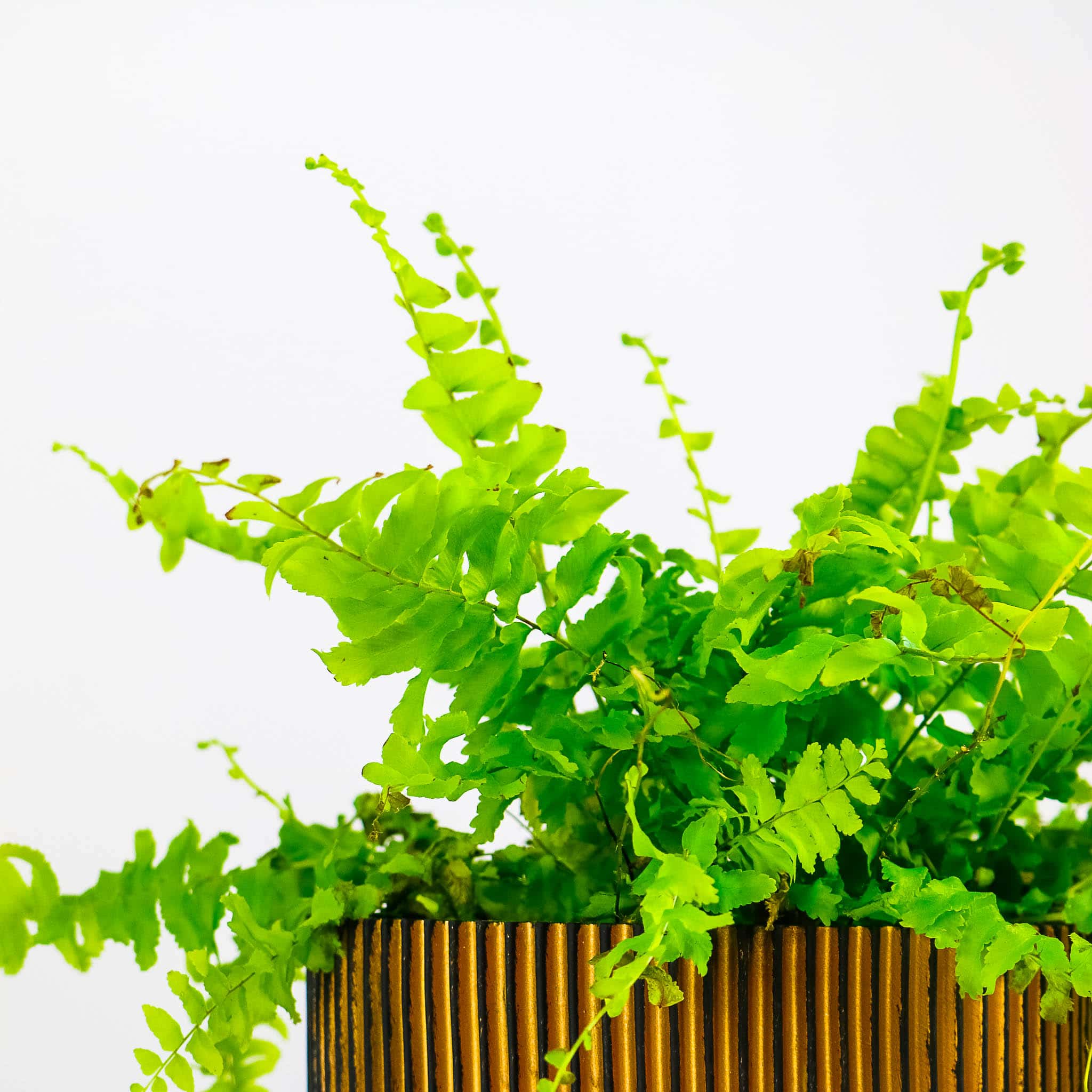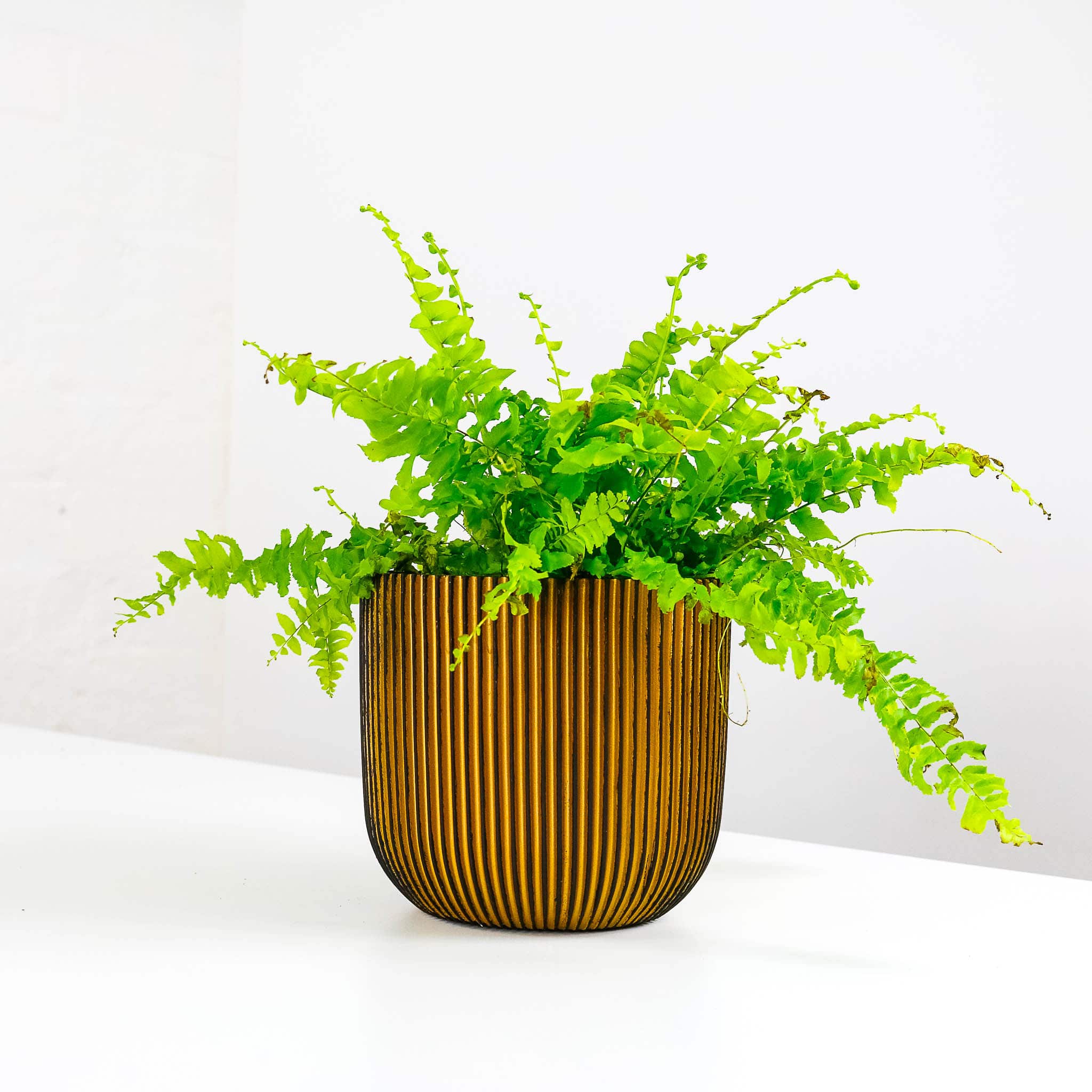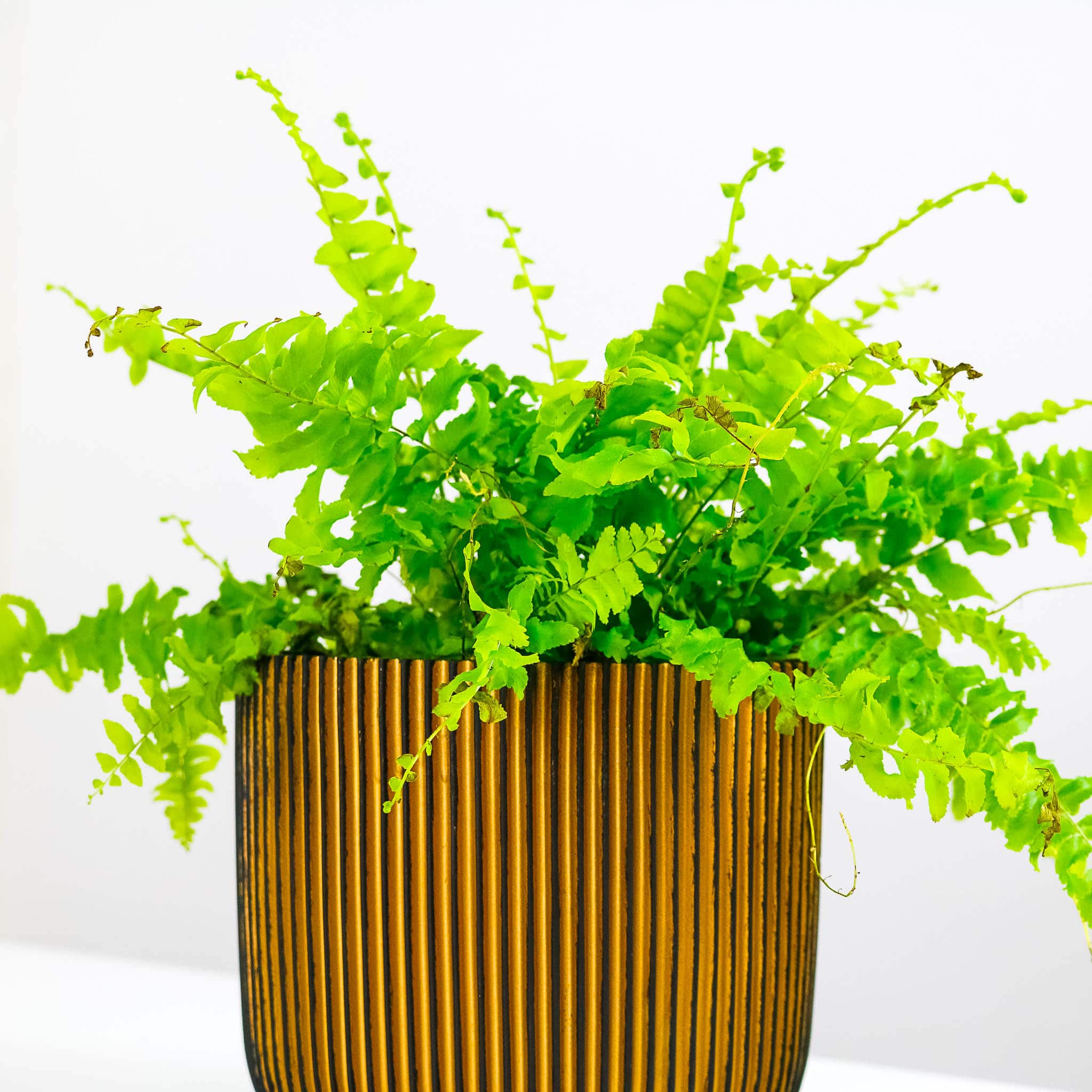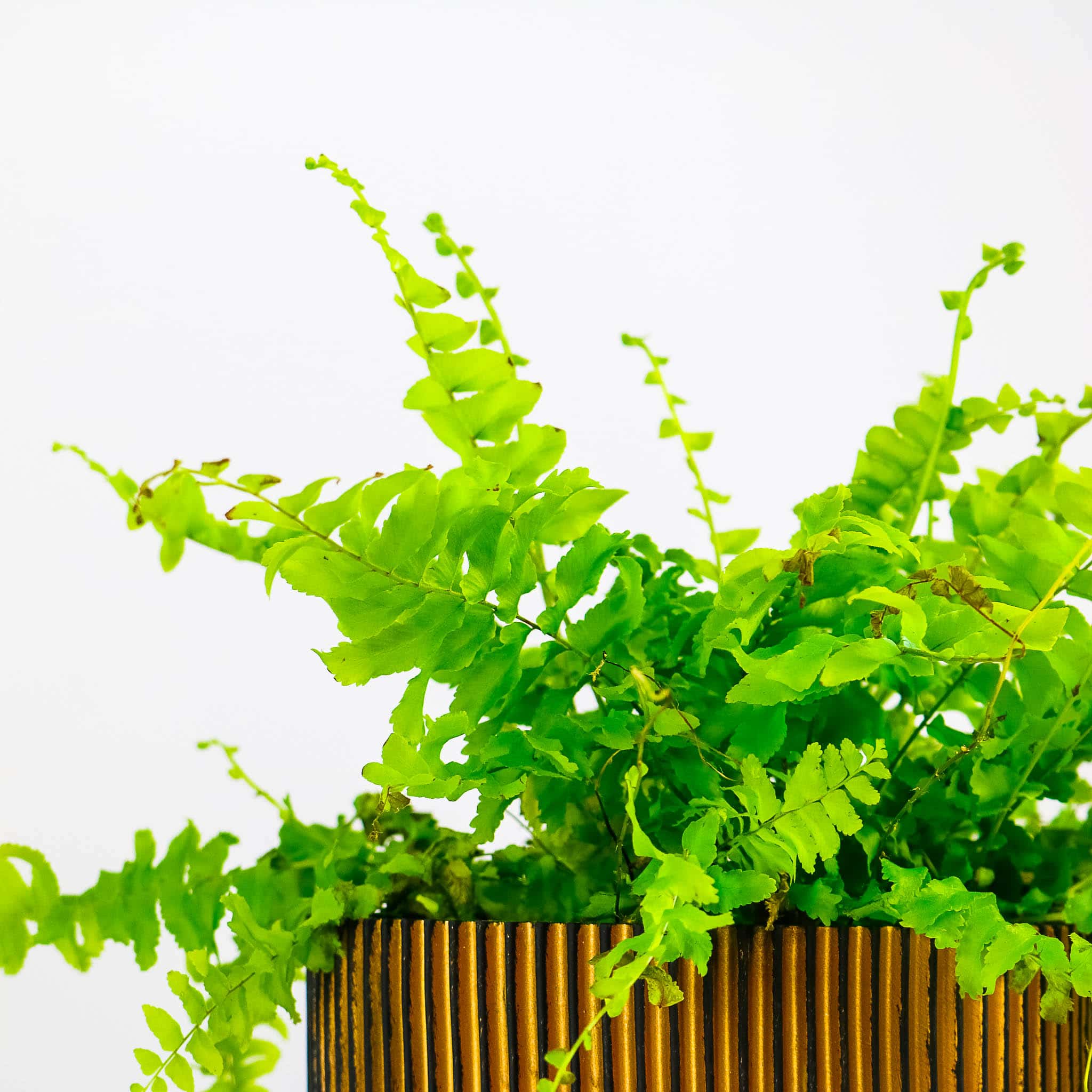 Boston ferns are beautiful, powerful air purifying plants with long, graceful fronds covered with tiny leaves. Paired with this beautiful gold pot, it makes a stunning addition to your home.
Plant Height: 30cm Pot Size: 12cm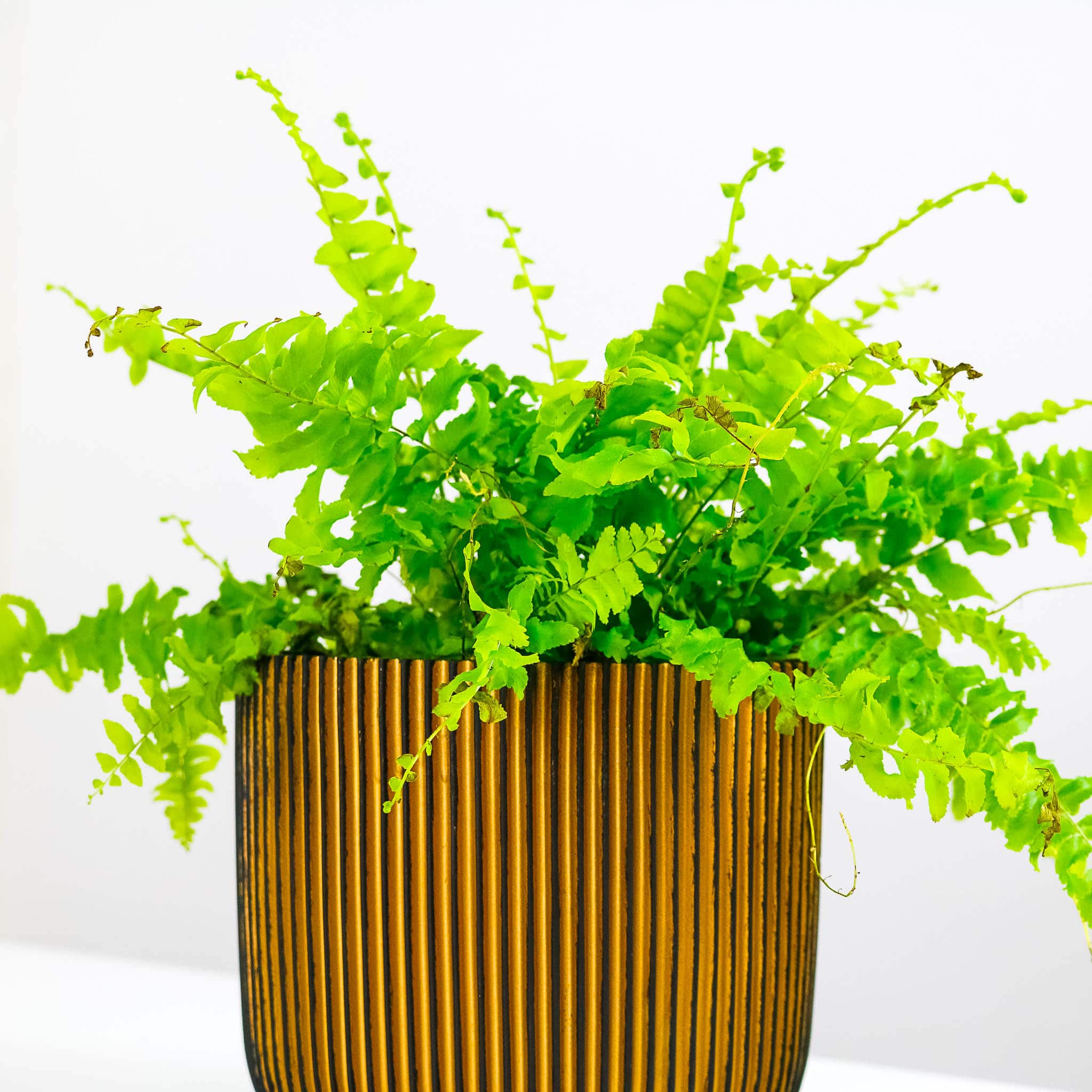 How To Care For Your Boston Fern & Pot
Boston Ferns prefer indirect sunlight, as they are usually used to surviving in forest or woodland floor space. Just be sure not to place this shrub in direct sunlight as this will cause the leaves to brown and deaden.
Keep the soil moist. Don't overdo it and invite root rot, but don't let the soil go completely dry. To help you on your watering journey, why not try one of our watering cans?
Place your fern in a warm, humid environment. If you don't have a particularly humid environment, simply give them a spray with a mister every once in a while. If you don't have anything to spray your plants with, have a look at our very own watering misters.
Fancy yourself an exotic new shrub? Boston ferns are beautiful, powerful air purifying plants with long, graceful fronds covered with tiny leaves. Discovered in 1894, in a shipping container, F.C. Becker quickly thought to propagate cuttings of the Boston fern before selling it in America. After a short amount of time, the Boston fern quickly rose to fame as one of the most popular parlour plants on the planet!
Nephrolepis Exaltata is a relatively tough fern that has a higher tolerance for light and dry conditions than other species. Boston ferns look great in many ways – including on pedestals, in hanging baskets, as part of a grouping, or as lush specimen plants on the right windowsill. Just be sure to give the Boston fern plenty of space to grow in all directions. If your leaves are consistently touching a surface like a wall or a window, they may deaden. So, just have that in mind!
One of the Boston fern's greatest assets is that is an air-purifying plant. In a 1984 NASA study, this indoor plant was recorded to remove formaldehyde, xylene, and toulene out of the air!
Top tip for Boston Fern's
If fronds go colourless, prune them away.
To keep your Boston fern looking green, remember to mist the leaves every day.
To protect your leaves even further, keep your fern away from any drafts or winds.
If you want to go the extra mile, you could even use a well-balanced fertiliser.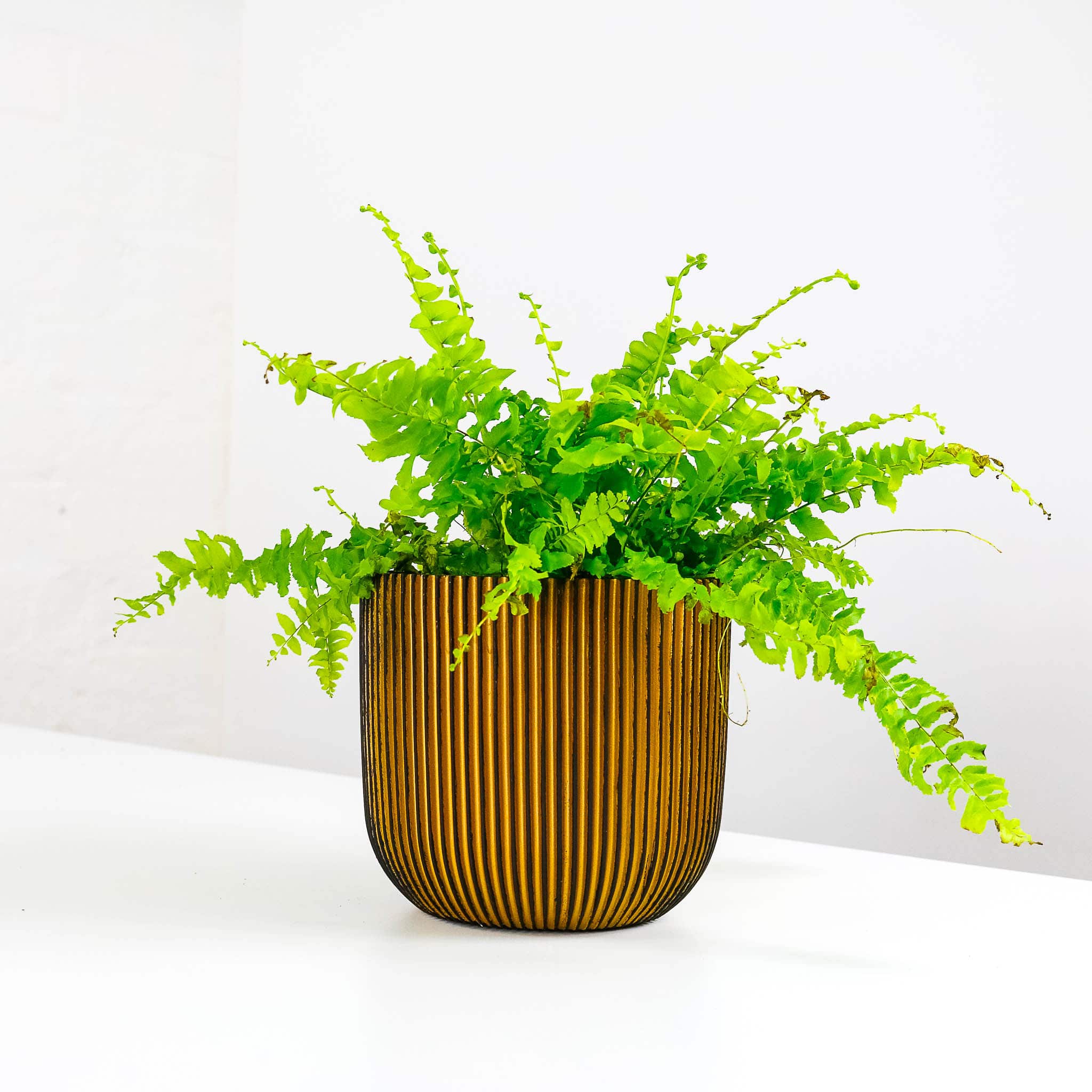 You're viewing: Boston Fern & Pot
£

17.50
Add to cart
We use cookies on our website to give you the most relevant experience by remembering your preferences and repeat visits. By clicking "Accept", you consent to the use of all the cookies.
Privacy Overview
This website uses cookies to improve your experience while you navigate through the website. Out of these cookies, the cookies that are categorized as necessary are stored on your browser as they are essential for the working of basic functionalities of the website. We also use third-party cookies that help us analyze and understand how you use this website. These cookies will be stored in your browser only with your consent. You also have the option to opt-out of these cookies. But opting out of some of these cookies may have an effect on your browsing experience.
Necessary cookies are absolutely essential for the website to function properly. This category only includes cookies that ensures basic functionalities and security features of the website. These cookies do not store any personal information.
Any cookies that may not be particularly necessary for the website to function and is used specifically to collect user personal data via analytics, ads, other embedded contents are termed as non-necessary cookies. It is mandatory to procure user consent prior to running these cookies on your website.